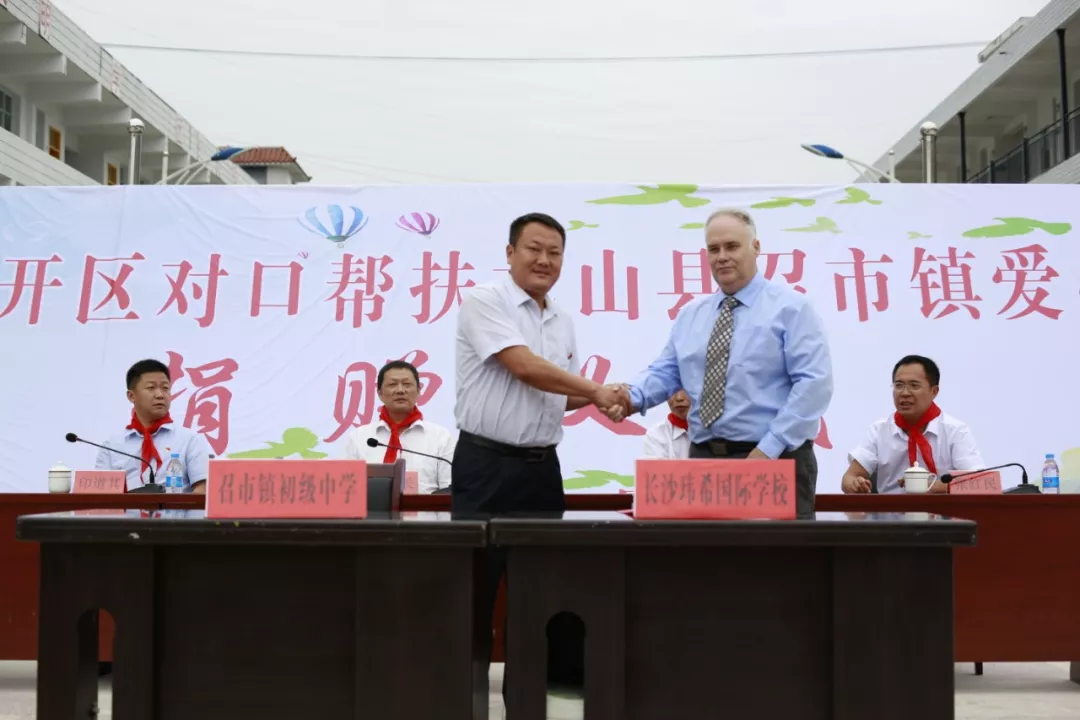 In response to the call of government on supporting areas of low income, and as a part of CETZ's support programme, Changsha WES Academy, represented by Mr. Andrew, has established friendly and supportive relations with Longshan County Zhaoshi Town Middle School which is located in Xiangxi Autonomous Prefecture, Hunan.
为了响应政府精准扶贫,定点帮扶的号召,在长沙经开区帮扶工作组的组织下,长沙玮希国际学校去到了湖南省湘西自治州龙山县召市镇,与召市镇初级中学搭建友好交流平台,建立友好学校交流合作关系,以拓宽师生视野,提升教育理解,增强教育资源,培养学生的社会责任感和使命感。
---
Becoming Friend Schools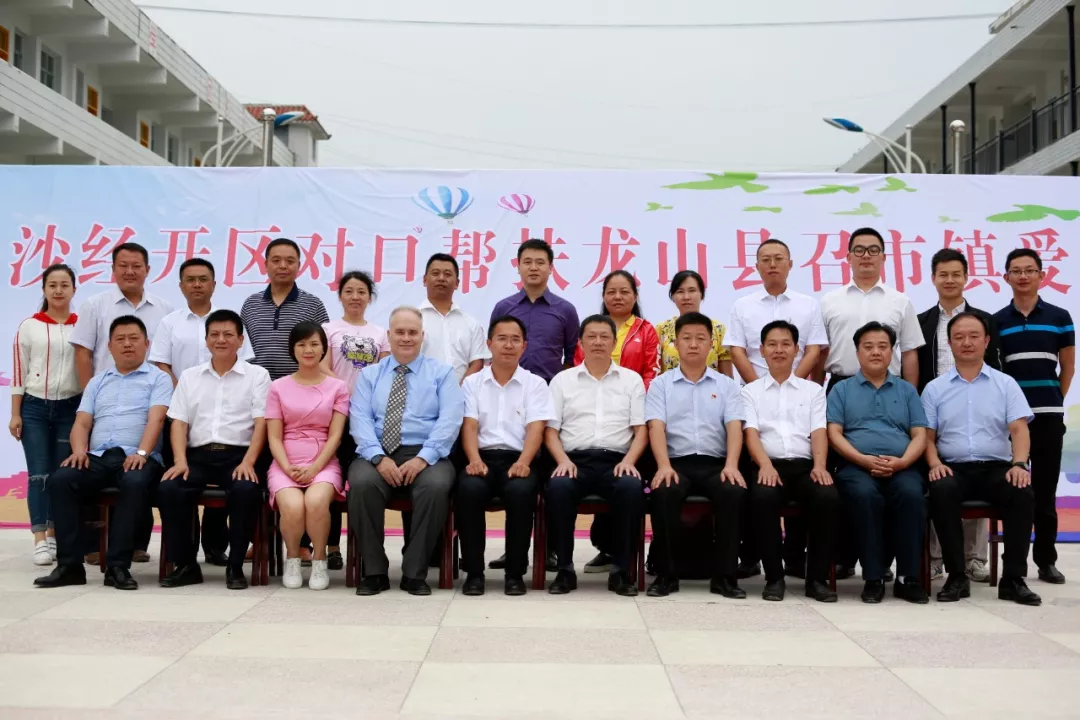 On the Chinese Teacher's Day, the Support Team of CETZ organized a charity tour to Zhaoshi Middle School with donations and materials to give a hand to the children in need. As the only international school in Hunan, Changsha WES Academy brings together outstanding teachers from the world who embrace advanced international perspectives on education. We expect to help improve the education quality in Zhaoshi, and the establishment of friendly relations is a start.
9月10日恰逢教师节,长沙经开区帮扶工作组组织园区爱心人士来到召市镇初级中学,带来大批爱心助学金和物资,解贫困地区孩子教育燃眉之急。长沙玮希国际作为湖南省唯一的外籍人士子女学校,凭借其先进的国际教育理念和雄厚的师资力量屡获教育界好评。本次帮扶活动中,安迪校长作为代表与召市镇初级中学校长签订友好合作备忘录,将全方位提升乡村学校的教育品质。
---
A Meaningful Tour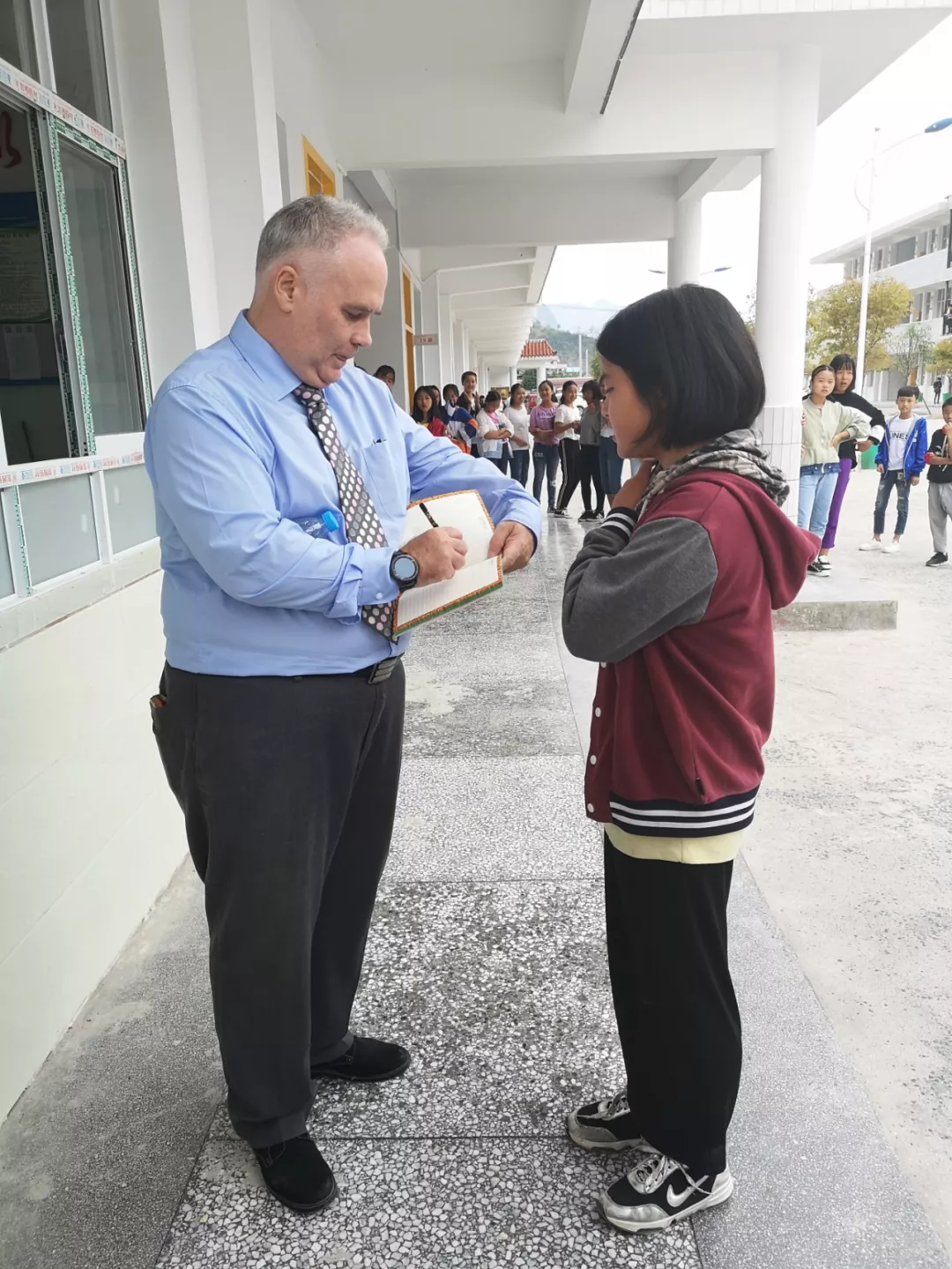 This year, Changsha WES Academy will have the high school students spend their Week Without Walls at Zhaoshi Middle School where they'll experience being teachers. It'll be an unforgettable trip for WES students: it's an 8-hour trip from Changsha to Zhaoshi; it's even challenging for them to teach the younger ones in remote areas. In this term, Principal Andrew became more determined when he saw in person the status of children in Zhaoshi: "For many of our students, life is too easy. They should step out to see the real world and show their empathy to the society. That's also an important part of our teaching."
11月份是长沙玮希国际学校组织Week Without Walls(研学旅行/社会实践周)的时间。今年,玮希将组织高年级学生到召市镇初级中学进行为期一周的支教体验。从长沙到召市镇,需要8个小时的车程,而让在国际学校就读的学生在乡村支教也难免会有不适。这必定是一趟充满挑战的旅程。然而在看到乡村孩子们的教育现状后,安迪校长更加坚定了他的想法:"对于我们的大部分学生来说,生活太容易了。他们需要出来看看真实的世界,让他们产生同理心,这也是我们教育理念中很重要的一部分。"